Electronic Medical Records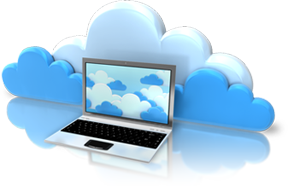 We're in the business of helping businesses do more - faster!
The easy, secure, and affordable Electronic Medical Records solution. Developed specifically for the medical aesthetics industry.
Medical spas have very specific needs when it comes to documentation and recording results. Since 2004, AestheticsPro has been in the business of developing exceptional business solutions tailored to the unique and specific needs of the medical spa industry. Our sophisticated medical spa EMR software puts client records at your fingertips for easy access and keeps all those records 100% secure at all times. Our outstanding EMR software is easy to use, accessible across multiple platforms, fully HIPAA compliant, and completely affordable. What are you waiting for? Make the switch today.
User Friendly. Safe. Secure. Affordable.
Electronic Records Features
FREE Comprehensive Form Library
Interactive Tx Records and Images
Form Editing Tool
Electronic Records Kiosk
Secure Online Client Portal access
Photo and Document Uploads
Digital Signatures
E-Record Administration Tools
Medical Director Authorization
Custom Electronic Records Development
HIPAA Cloud Compliant
Accessibility
With an extensive database of electronic medical forms that are included with the AestheticsPro Enterprise software, all of your e-records are just a click away. Simply select the e-records that your business needs and they'll instantly become available for each new chart you create. It's that simple. You also will have full access to client or patient documents and photos from your client information screen where you can instantaneously enter, edit, or review their information.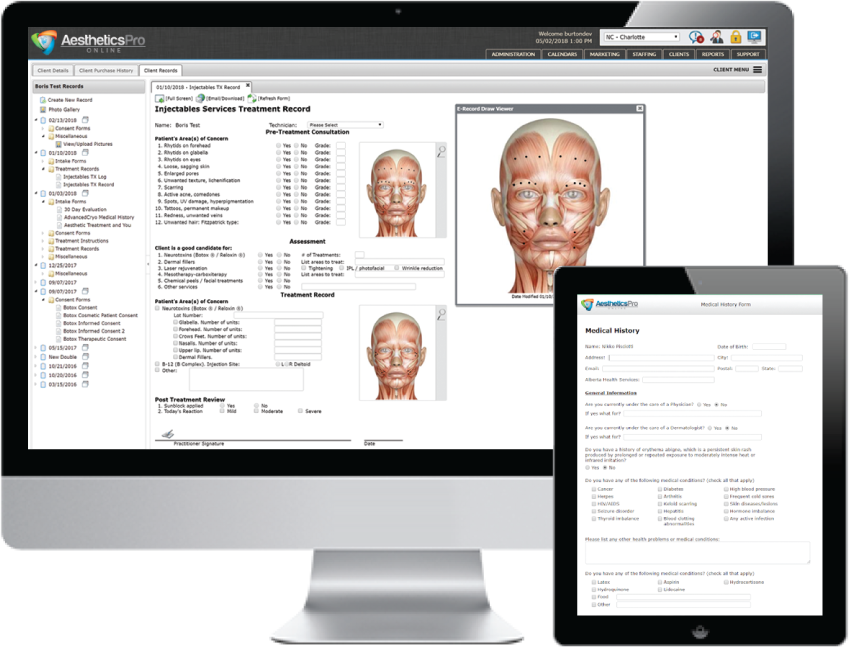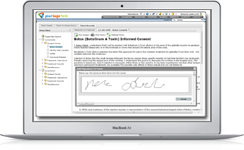 Web-based Security
Your business is our priority, and our business is your data. Access to your records are limited to only the staff that you authorize. Utilizing 128-bit encryption for all electronic transactions, all of your data will be stored securely at the moment of entry. Your business data is safe and secure with AestheticsPro.
Aesthetics Pro delivers all of this and affordability, too?
With AestheticsPro online e-records, you will save time and space and money. Who can't afford to do that?
Time: Access charts and forms without having to leave your desk, or, for that matter, your home. No need to commute to the office to review a document or enter notes.
Space: Eliminate the need for massive, ugly, space-eating storage cabinets, freeing valuable square footage for other uses.
Money: Typical electronic records solutions (known as EMR in the medical world) can cost $50,000 or more. This makes AestheticsPro online e-records, at a fraction of that cost, much more affordable. Plus, we offer your business all of the benefits of a centralized document storage and backup solution without the expensive IT infrastructure or support staff to run it.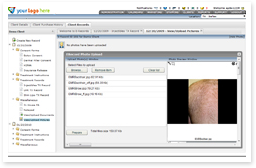 Want to see more? Call us today at 866-305-3080 to schedule a webinar and see firsthand how AestheticsPro can make your client records easier to access while saving your organization thousands of dollars per year.